5 local, women-owned businesses we love
Mar 12, 2023
Local, women-run small businesses are the backbone of many communities—especially ours—providing unique products and services to the people around them. From child-specific consultancies to beloved products, these businesses offer a personal touch and a sense of community that can't be found in larger chains. In honour of International Women's Day, here are five small businesses owned by women that we love.
Please describe your business:
Potty Training Consultant who helps families navigate the potty-training journey with ease.
Please tell us a bit about yourself or your passion statement:
Rebecca Lampert is a Certified Potty Training and Oh Crap Consultant and the founder of Two P's In A Potty. With a background as a Child and Youth Worker and lots of prior experience working with kids, Rebecca started her business in 2021 as she was planning to potty train her own daughter. She realized that the potty-training process can be stressful and challenging for so many families, so she is committed to helping young families navigate this process with ease and confidence. Each child is different, so Rebecca helps you find what will work best for your little one.
Please describe your business:
I'm a Certified Pediatric Sleep Coach that supports parents of children 0-6, struggling to find calm, ease and structure around sleep in their home. I guide, instruct and motivate parents through a custom plan and series of strategies to meet their end sleep goals. And achieve sleep success for their family!
Please tell us a bit about yourself or your passion statement:
As a mom of four, I know all too well the struggles of sleep deprivation and chaos around bedtime, naps, night waking…Motivated by my own experience, I was inspired to become certified as a child sleep coach and share my knowledge, expertise and unwavering compassion for parents spinning their wheels trying to solve their children's sleep issues. I hope to help bring back the calm that comes with consistent rest! I'm passionate about postpartum support—it's truly a time when moms' needs can be overlooked. I get it, I can see through it now, and I want to help as many moms as I can: to help them feel heard, to help them achieve sleep structure that works for them and their children, and help them get the rest they need to take on the world of motherhood!
Is there anything else you would like us to know?
I can support in many different ways for parents. From calls to get back on track to one-on-one support to get sleep working and meet sleep goals. My one-on-one support ensures I'm with my families daily, walking them through the steps to success. My support grows, in that I work with families for three weeks with add-ons to support them for an additional three months to a year, helping them work through any issues that arise later on, like sleep regressions from sickness, travel, developmental milestones, daylight savings…I'm a part of a family's parenting journey.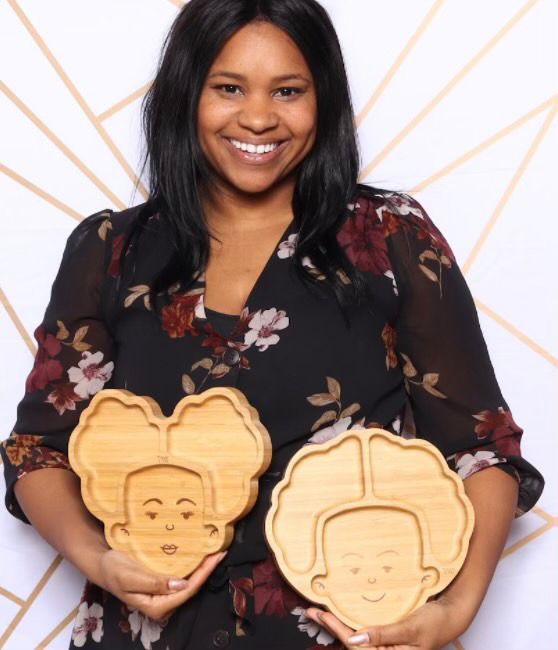 Please describe your business:
Trippin' Along Boutique was created to help parents of multiples and singletons gain access to affordable and high-quality products for baby-led weaning and teething. All products have been triple-tested by my own children!
Please tell us a bit about yourself or your passion statement:
I am Nadine Fearon, owner of Trippin' Along Boutique. I am the mother of four: a 13-year-old and 2-year-old triplets. As a mom of multiples, purchasing and buying multiple sets of products made my journey of navigating my new normal quite the task. It was both time-consuming and very expensive. Realizing this gap, I decided to build a brand that would not only help me but help other parents too.
Is there anything else you would like us to know?
Trippin' Along Boutique officially opened in Oct 2021. It has been a passion business for me, starting off as just wanting parents to have affordable feeding and teething products, but it has not blossomed into me sharing about my BLW experiences with triplets and helping other parents navigate their way their baby-led weaning and choosing healthier options for their littles.
Please describe your business:
Medical Image Wigs sells wigs, toppers, hats and accessories for thinning hair and medical hair loss. We provide one-hour free consultations at our Oakville location and have a full-time hair stylist to customize your piece.
Please tell us a bit about yourself or your passion statement:
A valuable service in our community, Medical Image Wigs has been providing full and partial hair systems for women, men and children in Oakville for 25 years. Our areas of expertise include chemotherapy, alopecia, thinning hair, male & female pattern baldness, transgender, trichotillomania, psoriasis, brain tumours, telogen effluvium and lupus. To set up your free consultation, call 905-338-2688 or book online at www.medicalimagewigs.com
We also have an online store with free shipping across Canada on all orders over $100. We provide a medical receipt so you can claim your wig on your insurance benefits or as a medical expense on your income taxes.
Is there anything else you would like us to know?
We are celebrating 25 years in business this year!
Please describe your business:
Zee-Zee's World provides learning-tool puzzles that help parents and educators to tackle complex topics with children. At Zee-Zee's World, we understand the importance of tackling tough conversations with children and recognize that some subjects are challenging to communicate. Our engaging puzzles were designed with this end in mind and introduce a range of topics, including bullying, strangers, racism, disabilities, family structures and more, at a level that can be absorbed. Each puzzle includes a connection prompt to aid the discussion. These cards provide a perfect way to introduce and normalize such topics and turn them into conversations that are easy to engage and understand.
Please tell us a bit about yourself or your passion statement:
Our vision is to pioneer social consciousness in children at an early age and create educational tools that empower parents and educators to raise children with humane values. Having a deaf child of my own, creating Inclusive and diverse products is at the forefront. We are on track with achieving her long-term goal, ensuring every child in the world will be able to see themselves in one of our learning-tool puzzles.
Is there anything else you would like us to know?
We are also online in Indigo and in over 40 Indigo stores across Canada. Also recently sold out in Winners and Marshals. We made Indigo's list of top 10 women-owned businesses, were on Breakfast Television and have collaborated with Fido on several occasions.
Stay connected with news and updates!
Join our mailing list to receive the latest news and updates from our team.
Don't worry, your information will not be shared.
We hate SPAM. We will never sell your information, for any reason.