10 Books That Celebrate Love, Identity and Family
Jun 04, 2021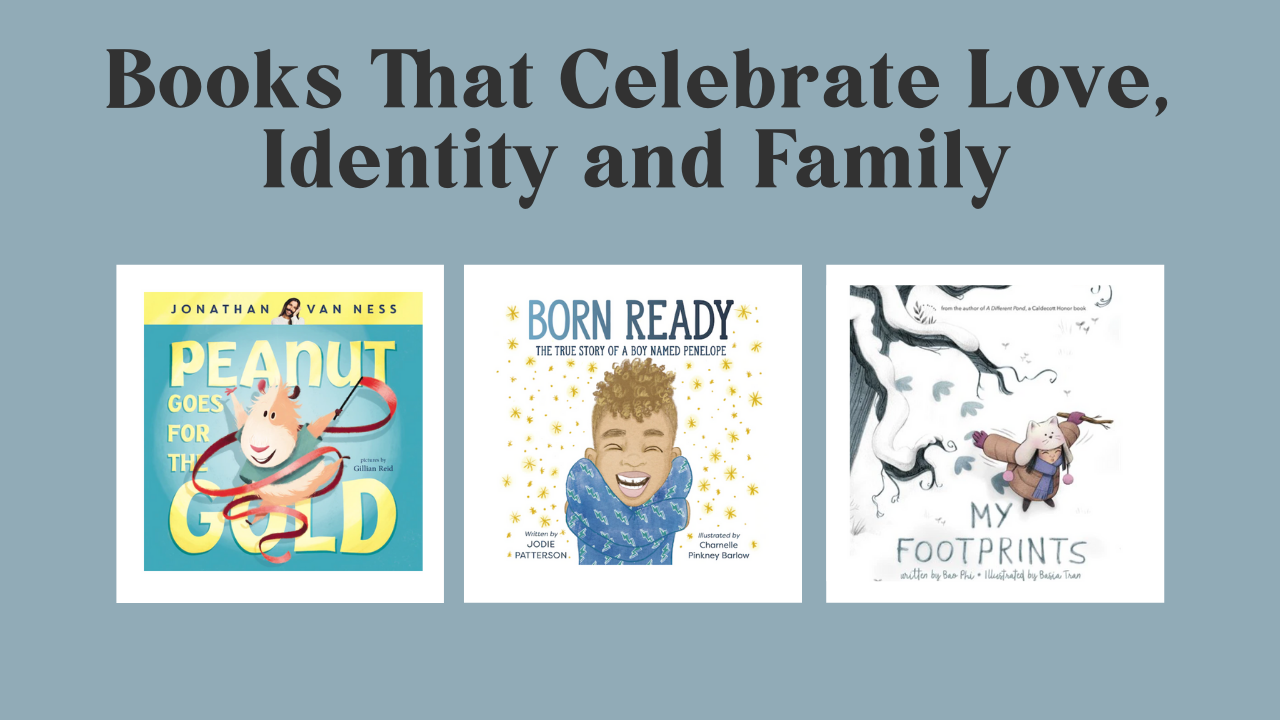 We all know that books are a great way to help children learn about the world around them. With June being Pride month, adding a few new books that showcase pride and diverse families is a great way to celebrate. We've rounded up some of our favourites to add to your bookshelf to read now and the whole year!
by Jonathan Van Ness, illustrated by Gillian Reid

My sister gifted my 3-year-old daughter this book for Christmas and it has quickly become one of our favourites! Peanut Goes for the Gold is a charming, funny, and heartfelt picture book that follows the adventures of Peanut, a gender nonbinary guinea pig who does everything with their own personal flare.
by Justin Richardson and Peter Parnell
We first heard this story at a Toronto Drag Queen Storytime and it further reaffirmed my love for penguins. And Tango Makes Three, tells the true story of Roy and Silo who are not like other penguins but their desire to start a family was the same. Luckily for them, their zookeeper at the Central Park Zoo helps them create a family of their own.
by Ryan Brockington and Isaac Webster
This sweet, open-hearted book began as a love letter from authors Ryan Brockington and Isaac Webster to their daughter—and became a joyous celebration of love, family, and acceptance for all to read and share.
It tells their story along with their daughter Rumi to celebrate all different kinds of families!
by Lil Hot Mess, illustrated by Olga de Dios Ruiz
A twist on the classic nursery rhyme the Wheels on the Bus, this board book teaches you all the ways to 'work it'. It is fun, lively, and makes for a great bedtime story!
by Jessica Love
Beautifully written and illustrated, Julián Is A Mermaid, is the story of a young boy who sees three women wearing beautiful dresses and dreams of wearing a fabulous dress of his own! But how will his family react when they see him? This book is full of heart and celebrates individuality in a wonderful way.
by Erica Silverman, illustrated by Holly Hatam

This sweet book tells the story of Susan who is SO excited to play fairies with her little sister Jackie. But as Jackie begins to grow, Susan notices that Jackie doesn't like the same games, or dresses and wants to be called Jack no Jackie. This story focuses on change, acceptance and love.

by Jodie Patterson and illustrated by Charnelle Pinkney Barlow

An accompaniment to her own memoir, The Bold World, Jodie Patterson explores her transgender son's journey, in this important picture book about love, identity, and acceptance.

by Bao Phi and illustrated by Basia Phan

Thuy feels different because not only is she Vietnamese-American but she also has two moms. She is often bullied because of it. During one walk home on a winter afternoon, Thuy spots a bird that inspires her to go on an imaginary adventure. This journey eventually leads her into the arms of her moms, where together they help Thuy find the courage she's been looking for.
by Lesléa Newman and illustrated by Carol Thompson
This sweet board book takes you on a toddler's daily adventure with their two mommies. From peek-a-boo to dress up this book is a great addition to any toddler bookshelf!
by Sophie Beer


Another board book to add to your shelf or a perfect gift for a new parent! Love Makes A Family explores different dynamics and helps illustrate that while there are many types of families the one thing that they all share is the love for one another.
Stay connected with news and updates!
Join our mailing list to receive the latest news and updates from our team.
Don't worry, your information will not be shared.
We hate SPAM. We will never sell your information, for any reason.